Clear + Brilliant® Laser at Skin Solutions
If you're looking for help with textural concerns, pore refinement, improvement of fine lines, and light discoloration, Clear + Brilliant® may be the ideal laser treatment for you.
GENTLE AND EFFECTIVE, CLEAR + BRILLIANT® HELPS IMPROVE SKIN TEXTURE AND BRIGHTNESS.
Recognized as a gentle, revolutionary skin treatment, Clear + Brilliant® has many benefits:
Visibly illuminates skin tone
Renews skin for ultra-soft and smoother texture
Increases radiance
Increases collagen production
Refines pores
Reduces fine lines and wrinkles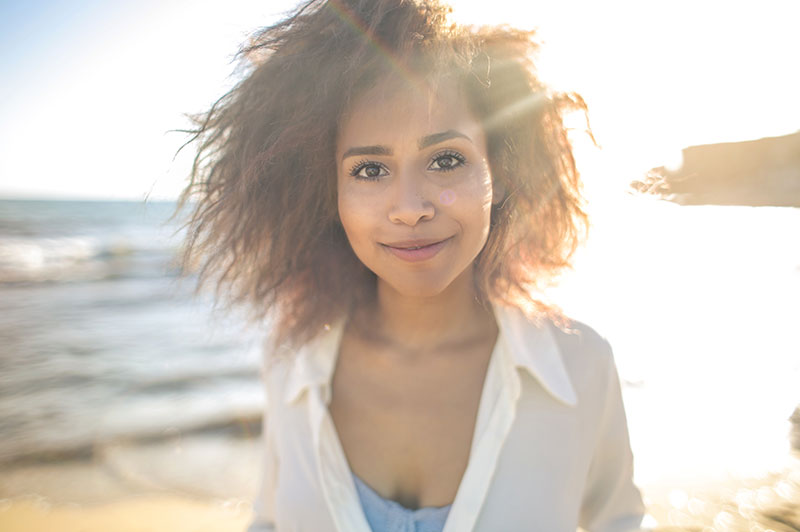 How does Clear + Brilliant work?
Clear + Brilliant® uses fractional laser technology to deliver energy beneath the upper layers of the skin. This stimulates the body's natural healing response by creating collagen and elastin.
HOW LONG DOES EACH CLEAR + BRILLIANT® TREATMENT TAKE?

A Clear + Brilliant® treatment takes about 75-90 minutes. This includes 30 minutes of a pre-treatment topical anesthetic and 10 minutes of a post-treatment cooling masque.
CAN CLEAR + BRILLIANT® BE PERFORMED YEAR-ROUND?

Yes. However, it's not ideal to treat tanned skin with this laser treatment. This increased pigment can compete with the laser's typical targets and may decrease the effectiveness of Clear + Brilliant®.
WHAT HAPPENS AFTER CLEAR + BRILLIANT® TREATMENT?

You may notice a "sandpaper" texture a few days after treatment. This dead skin and pigment is a normal result of laser treatment and should start sloughing off 3 – 4 days after the treatment. Once the sloughing is complete, you may notice some pinkness over the next few weeks as the damaged skin has been replaced with healthy, younger looking tissue.
HOW MANY CLEAR + BRILLIANT® TREATMENTS ARE NEEDED?

To achieve optimal results, Clear + Brilliant® treatment should be done in a series of 3-6.
HOW LONG WILL CLEAR + BRILLIANT® RESULTS LAST?

Results from a Clear + Brilliant® treatment are both immediate and progressive. With regular maintenance and proper skincare, results can last for years.
WHO SHOULD CONSIDER CLEAR + BRILLIANT® TREATMENT?

Because Clear + Brilliant® is safe on all skin types, it is a great treatment for anyone who wants to correct or prevent the early signs of aging. It is also an effective option for improving acne scarring. Additionally, it's a good maintenance treatment for more aggressive lasers like Fraxel Re:store®.
HOW DO I BOOK MY CLEAR + BRILLIANT® TREATMENT?
Call us at 207-775-3446, Option 3, to book your Clear + Brilliant® treatment or to schedule your complimentary personal consultation. We will evaluate your skin, listen to your specific concerns, and recommend the best skincare regimen and treatments for you. You can also contact us right here; we'd love to hear from you!
For more details on what to expect post-treatment, including aftercare instructions, please read our Clear + Brilliant® Overview and Consent form.
Rely on the most trusted team of aesthetic experts in Maine At Skin Solutions from Plastic + Hand, our skilled aestheticians work under the direction of Plastic + Hand's experienced plastic surgeons and physician assistants. Together, we offer the latest medical treatments and physician-grade products. Your first step towards clearer, more vibrant, younger-looking skin starts now.
It's time to love what you see. Let's start today.
Call us at 207-775-3446, Option 3, or click here to get started.