Kathleen B. Leighton, LA, RTR
Licensed Aesthetician; Reconstructive, Corrective Makeup Artist
Kathy has worked with patients at Plastic & Hand since 1993, leading the aesthetic team since 1998. In addition to medical training in radiologic technology, she is a licensed medical aesthetician and reconstructive and corrective makeup artist.
Kathy's passion for knowledge in this ever-changing industry ensures she is informed about the latest technologies and cutting-edge skincare products available.
Kathy's approach is one that combines technical knowledge with a comforting touch. Because of her commitment to the skincare industry and dedication to skincare patients, she has gained the credibility and loyalty of her peers and clients. All of your aesthetic skincare needs can be met by simply putting your face in her hands.
Kathy's love of skincare began when she was twelve, sitting in her dermatologist's office.  "I was struggling with teenage acne and not feeling good about my skin. I remember feeling embarrassed and ashamed about the condition of my skin. I knew that when I grew up I was going to help guide people with care and compassion to have the best skin possible, empowering them through whatever was happening with their skin to ensure they never felt how vulnerable I felt.
"I am passionate about skin and strive to give each and every one of my clients the best advice on products and treatment options available to maintain the health and integrity of their skin."
Kathy's experience, leadership skills and commitment to excellence have greatly contributed to the success of Skin Solutions from Plastic & Hand.
---
Jessie Powers, LA
Licensed Aesthetician
Jessie decided to take her passion for skin health to the professional level in 2013 when she enrolled at The Institute of Skin Science.  There, she developed a wide range of knowledge about whole health and how beauty really starts from the inside. Maintaining beautiful skin requires knowledge and the right products.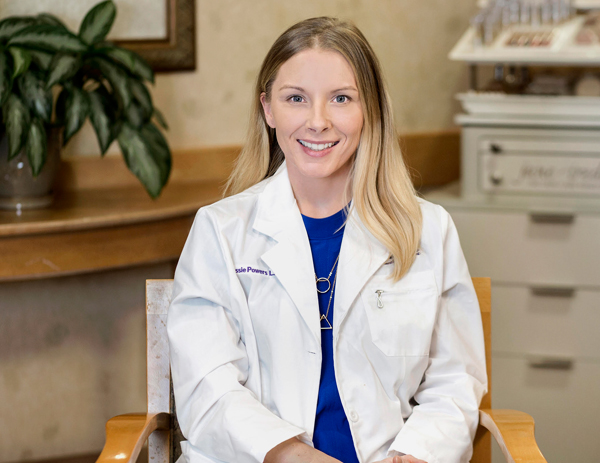 Jessie chose aesthetics as her career because of her enthusiasm for helping women feel good about themselves. Noticing how much women hide behind makeup, she made a commitment to continually educating herself and using her knowledge to help them improve their skin from within. This dedication to the industry leads to shared learning about how clients can care for their unique and beautiful skin, leading them to feel more secure with themselves.
As a licensed aesthetician, Jessie feels that educating her clients on their skin is one of the most important aspects of her career. Many ask "How can you know what to do, if you don't understand what's happening?" She understands how pigmentation, adult acne and premature aging not only put your skin health in jeopardy, but also your self esteem and confidence. Jessie believes that by providing her clients with the knowledge and tools to correct the situation, she can help each individual client reach their skin care goals.
Jessie is excited to be a member of the Skin Solutions from Plastic & Hand team and looks forward to providing exceptional services and experiences for all of her clients!